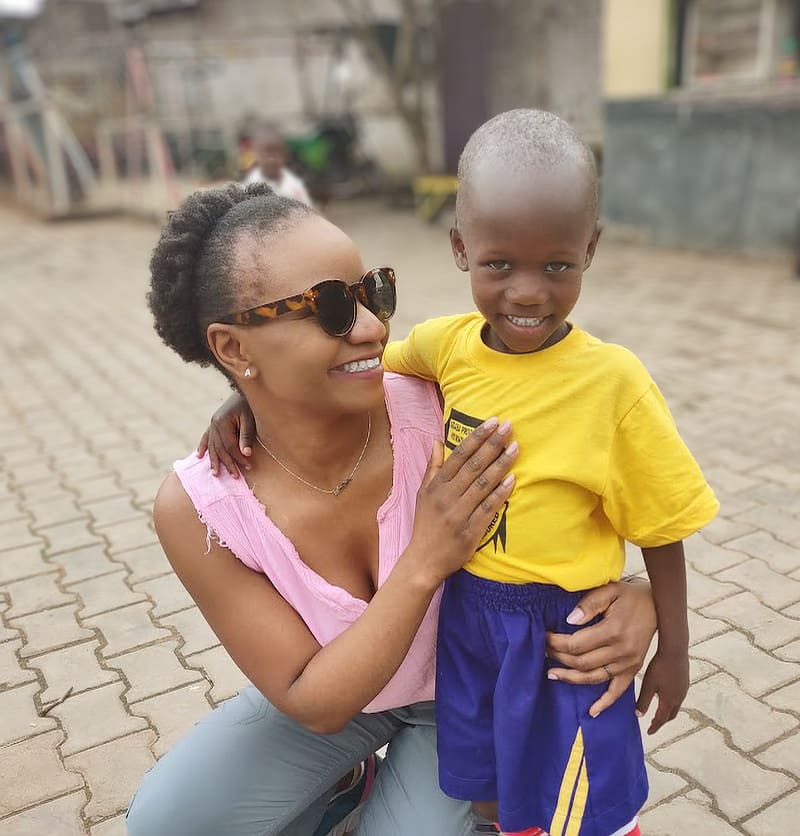 SymFamily Supports Dee's Hope, Uganda
At the tail end of more than 24 hours of travel, I was finally back in Uganda. The air was hot, sticky, and smelled like gasoline fumes and rain: It was just like I remembered.

Twelve years ago, on our first trip to Uganda, Mark and I traveled half-way around the world to re-unite two sisters through adoption. That process took two years and multiple trips to (and months spent in) Uganda to complete. Now I was back in the country for a different reason: this time to help one of my daughters, Dee, pay it forward by helping other girls struggling to survive in a culture that provides few opportunities, and abundant dangers, for vulnerable young girls.
Dee's Hope for Girls was founded in 2014 by Dorcus (Dee) and John Noble to help girls in Uganda have access to a better life by providing education, food and shelter. Dee explains, "We started with one girl and ended up with 2, then 4, and kept building on. Every time I heard another story, it breaks my heart, and it's hard to say no. So we kept on going."
Symetrix and the incredibly generous SymFamily have been partnered with Dee's Hope for several years, providing support in various ways, as part of our mission to be a force for good in the world. Last year, in addition to donating funds to Dee's Hope to help achieve their goal of ending the cycle of poverty and helplessness for girls in Uganda, Symetrix also "adopted" Jazzireh, one of the 30 girls currently being helped by Dee's Hope. The Symetrix Family collected personal items, toys and notes, which we were able to deliver in person earlier this year.
Deliver Great Products.
Develop People.
Be a Force for Good in the World.
Tammy Rossbach, Materials Supervisor for Symetrix, explains what it meant for her family. "As soon as the poster asking for donations was put up, I was already thinking of different special items we could send her. (My daughter) Santana is the same age as Jazzireh so she was extra excited to help pick out special items for her! When this opportunity was presented to help bring joy, happiness and a smile to a child in need, we couldn't wait to put a care package together. It was also special to us when we saw a photo of her holding one of our gifts and she had the biggest smile on her face!"

Dee's Hope focuses on helping girls in Uganda get an education. Dee explains "When I was in Uganda, I only went to school until first grade. That's when my life changed (when my father died). I lived in so many places with so many families, some treated me nice, some abused me. It breaks my heart because girls are not valued the same as boys. If a mom has to choose to send me to school or my brother to school, she will choose my brother. I feel like it's not fair. I want all girls to have the opportunity to go to school."

Education in Uganda is very different than what we're used to in the U.S. It's not free, for starters, and much of the population lives in poverty and can't afford to send their children to school. But recognizing that it's their best chance for a future, they make sacrifices so their children can get an education. It's a common dilemma of whether to spend money on food or school fees. Often they make the hard decision to pay for school rather than buy food for the family. And when there are multiple children, the girls usually come last in priority. Dee's Hope is stepping into the gap to help support vulnerable girls by providing access to education, food, and shelter for the girls and their families. Their vision is to create an opportunity for girls in Uganda to go beyond their current life circumstances. In the future, Dee's Hope wants to have a place where they can open a school to provide education and teach life skills to help end the cycle of poverty for girls.

This fall, the Symetrix Care Team will be kicking off a fundraising campaign to help support Dee's Hope.
To learn more about Dee's Hope, or make a contribution, please visit www.deeshope.org.