Located in the heart of the English town of Maidstone, MuMu restaurant and bar is a hot spot for a luxurious night out in Kent. Embellished with tented ceilings, colourful handmade furniture, chandeliers, and mesmerising lighting effects, the historic venue (Grade II listed) sets itself apart from your typical restaurant and nightclub. With a commitment to delivering an array of energetic music events in a lively atmosphere, MuMu aims to provide a classy yet vibrant experience for party-goers.
Following a devastating fire in 2021, the venue underwent extensive refurbishments to get back to its former glory, while also updating certain aspects to welcome patrons back to a new, electrifying space. Middlesex Sound and Lighting was tasked with creating a bespoke, eye-catching AV design that fit with the aesthetics of MuMu with the owner, Ciaran O'Quigley, stating he wanted to bring back the "wow factor."
The club boasts a warren-like interior which includes a traditional Irish pub, a speakeasy, a hidden "laundromat room," an eatery and fine dining restaurant, and a newly refurbished cabaret bar.
"The whole space is like a labyrinth," said Darrel Olivier, Director of Middlesex Sound and Lighting. "The main room is accessed via a small corridor which leads upstairs and along the way, there are these washing machines with quirky content displayed in the centre of them, spinning around. On the upper level, there's an eatery and restaurant with a newly refurbished cabaret bar, and then downstairs in the basement is a new club area, which we were involved in creating."
The club area itself is not the biggest space and required impeccably design for two large bars and four private seating booths, all of which look onto the dance floor. A large central booth features mirrored tiles and a square dance floor. The entire space is enhanced by a stunning lighting design that showcases pixel lighting features, LED, and discreet lighting to add depth and dimension.
In such a space, creating the right atmosphere is crucial and AV control is one of the key factors. The sound at MuMu is controlled by a Symetrix Prism 16×16 DSP with a touch screen controller in the DJ booth. The DSP provides for full zoning control and includes multiple presets for the venue's staff, as they plan to use the space for brunch and lunch events in addition to operating as a nightclub.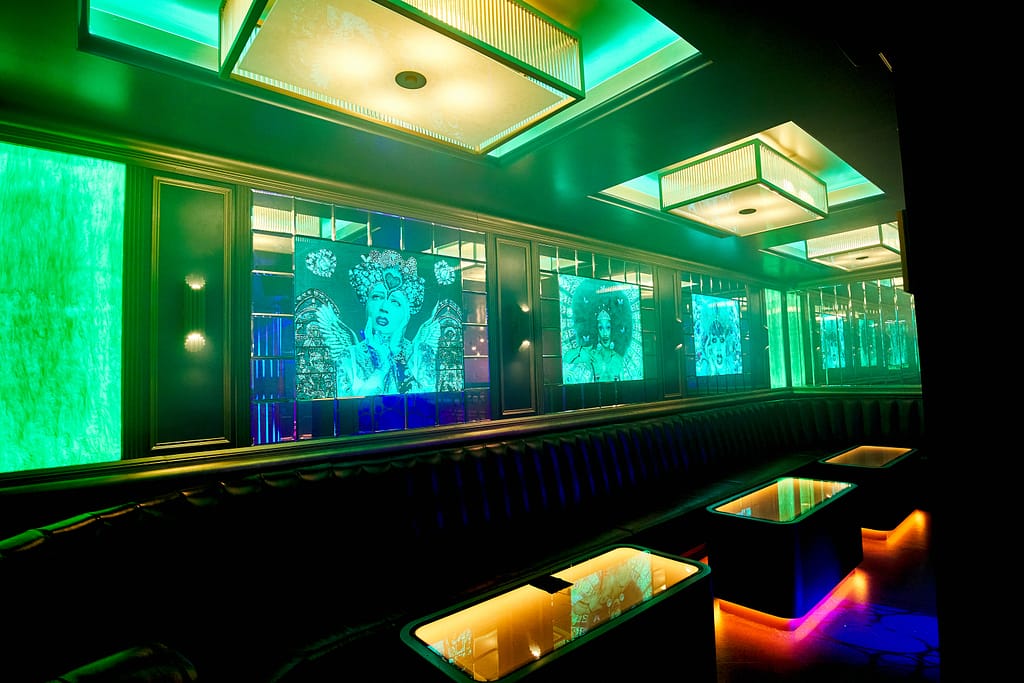 "The Symetrix DSP offers a wide range of options which makes it easy to create different presets and configurations for different audio sources," Darrel said. "It also includes professional protection delay and limiting features to ensure the system runs smoothly and reliably–which is incredibly useful when incorporating live instruments into the sound."
In addition to system control, the AV crew had to pay attention to the aesthetics. They used more compact enclosures in the booth seating areas, concealed subwoofers, and designed a clean finish from both the lighting and audio perspectives. The crew went with Martin Audio speakers throughout the venue, driven by Powersoft amps, with an emphasis on coverage and quality of sound to ensure a consistent experience for customers.
The DJ booth has a Pioneer DJ setup with Martin Audio stereo monitoring as well as MagicQ and ShowCAD lighting control systems. CD boxes were then incorporated in all peripheral areas of the booths with additional ADORN ACS-55TS ceiling speakers in the toilets and the entrance lobby. In addition, the booth areas called for C6S and Sx1-110 subs, the DJ booth of Blackline X10s and for the dance floor system, the team installed Blackline X12s and two single 18 subs.
The decision to use Symetrix processors and control devices was based on the quality of the solution.
"We've been using more and more Symetrix systems in the last six to eight months due to their reliability," explained Darrel. "It can be slightly different from other control solutions we've used in terms of the architecture used to configure it, but it hasn't been too difficult for our technicians who are already familiar with open architecture DSP. It has proven to be reliable, stable, and the results have been impressive."
Darrel noted that during the tuning of the system, there were some environmental challenges due to interference caused by furniture and individuals present in the room. To address this the AV crew attended MuMu's re-opening event to make final adjustments based on real-world sound absorption.
"There can generally be difficulties getting the stock in time and meeting project deadlines," Darrel said. "The delays and longer lead times are not just impacting us from an AV perspective, but the entire industry, from main contractors to furniture suppliers. It makes it more difficult for AV integrators because they don't typically allow for the time needed to properly set up the equipment."
Darrel explained that under ideal circumstances projects should be completed a week ahead of time to fly the speakers and avoid installing equipment on a dusty construction site.
"Sometimes we have to do that," he said, "which means keeping equipment bagged up until the last minute. However, despite the challenges, we were able to deliver a finished product for MuMu and Ciaran was exceptionally happy with the final look and sound."
The new refurbishment of MuMu has not only restored its former splendour, but has also added an extra sparkle to the venue. Thanks to the new Symetrix install, Middlesex Sound and Lighting has transformed the sound quality of the venue, ultimately enhancing and revitalising the customer experience.
"It was a solid team effort and I think the final result speaks for itself – it looks and sounds fantastic," Darrel concluded.