Corporate & Conferencing Solutions
Audio Video Processing and System Control
At the heart of your inspired workspace or digital workplace, Symetrix brings seamless unified communications & system control. Flexible Room Control
Perfect for corporate meeting environments or conferencing systems, Symetrix offers multiple methods for system control from user friendly wall remotes, to desk or wall mounted touchscreens, and even BYOD control from wireless tablets or smart phones. All programmed within minutes.
Scalable Conferencing
From simple huddle spaces to those requiring dozens or hundreds of microphones, Symetrix hardware and software tools provide nearly infinite flexibility in networked digital audio routing and configurable control devices. Instant Access to Training & Support
Download our Composer™ software and sign up for our Composer Basic Training Online 24/7 – available to everyone at any time. Our award winning support team is standing by to answer your questions. Famous for Audio Quality
We came from the studio environment; sound quality is in our DNA. Since 1976 we've been known for our sound quality starting with our world class voice processors. Symetrix's acoustic echo cancellation technology is no exception, providing the highest standard of audio quality to your unified communications system.
Symetrix Control Solutions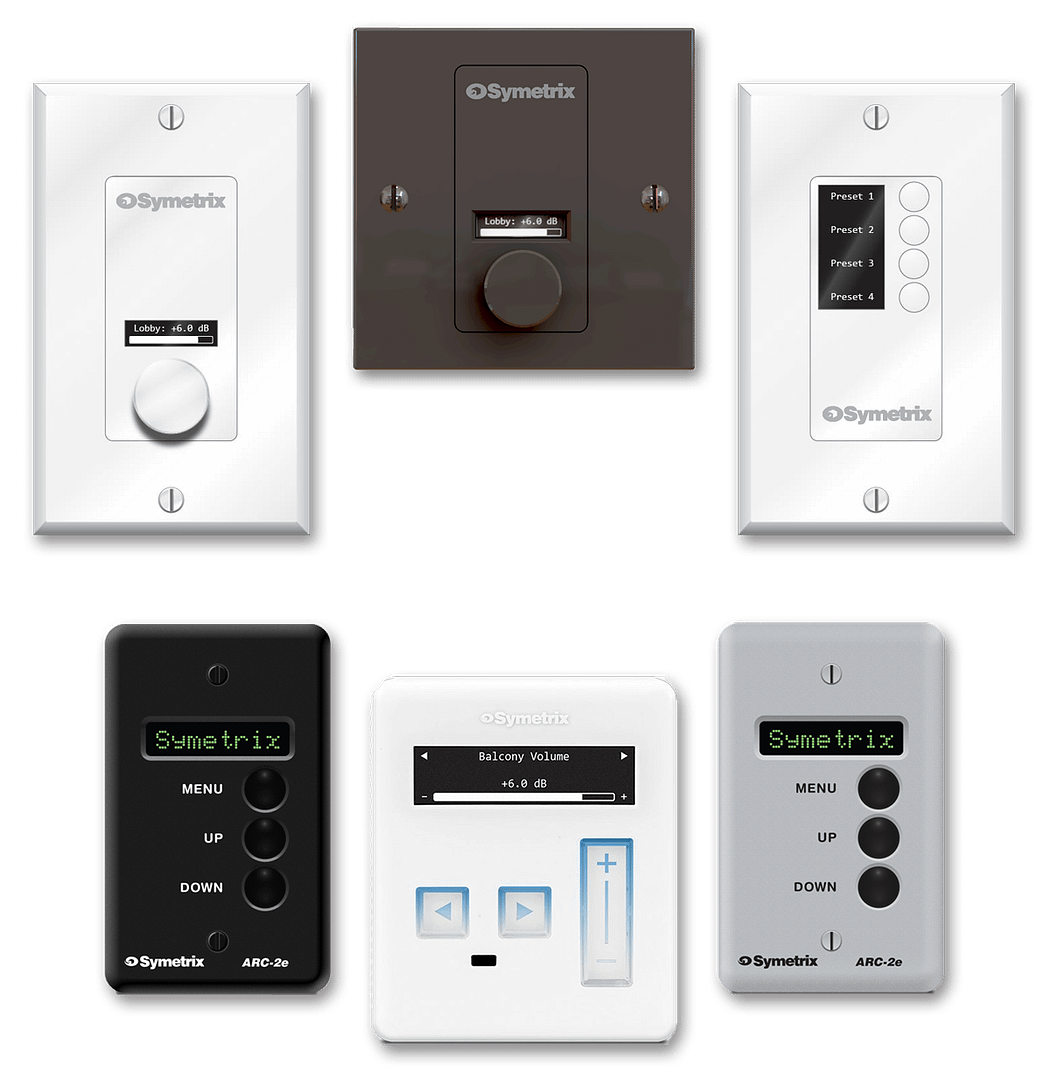 Whether you're looking for simple wall controls or full featured IP/POE based remotes, Symetrix has an option to meet the needs of your corporate conferencing space. Whichever option you choose, both the ARC and W-Series Remotes are easy to program and install.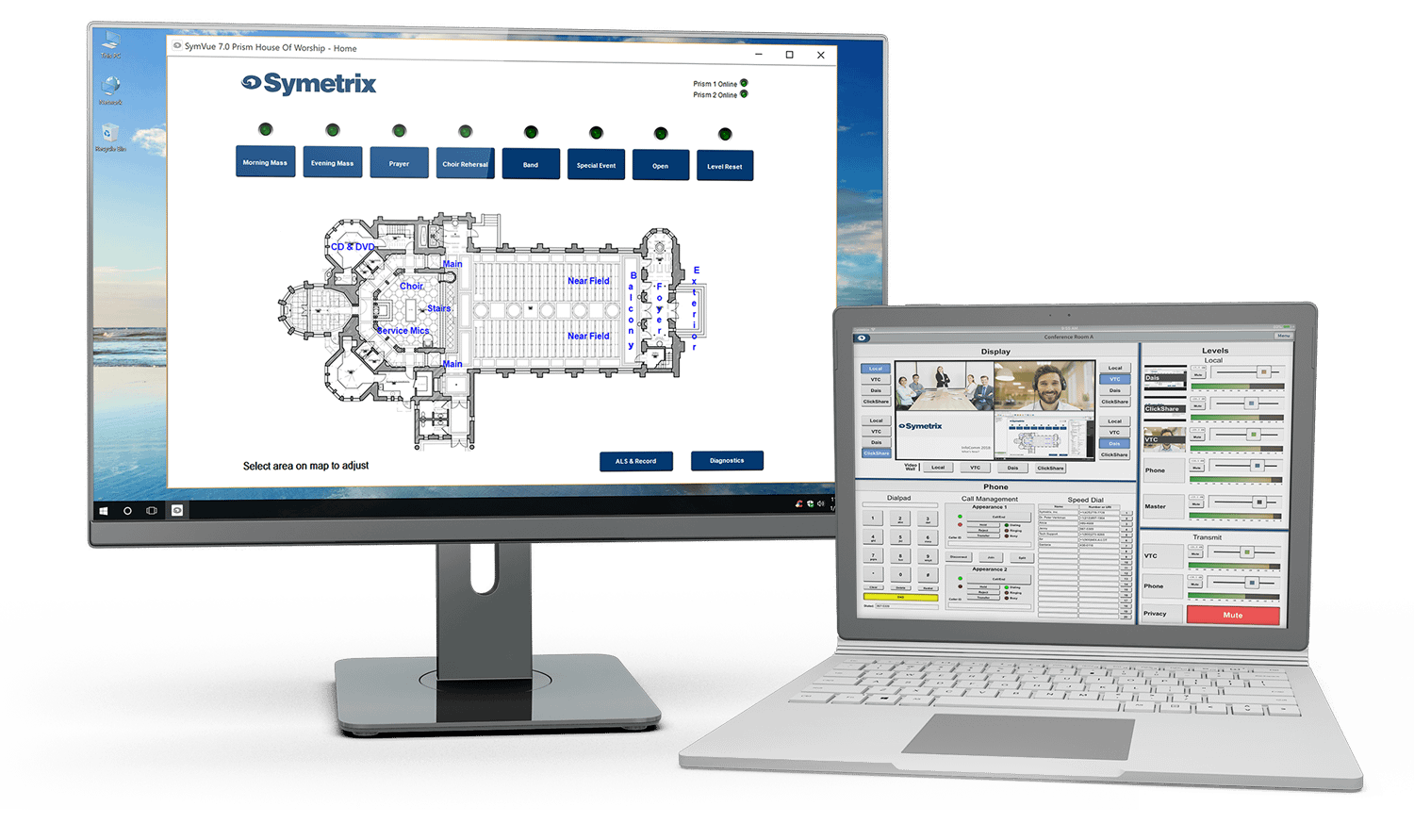 Satisfy your customers' exact requirements with Symetrix SymVue, Composer-based rapid GUI authoring software which is licensed without charge. Export commonly adjusted control objects, indicators, and labels into sets of attractive, easily accessible multi-user screens with custom colors, fonts, symbols and graphics. Created and tested offline without any script writing or coding.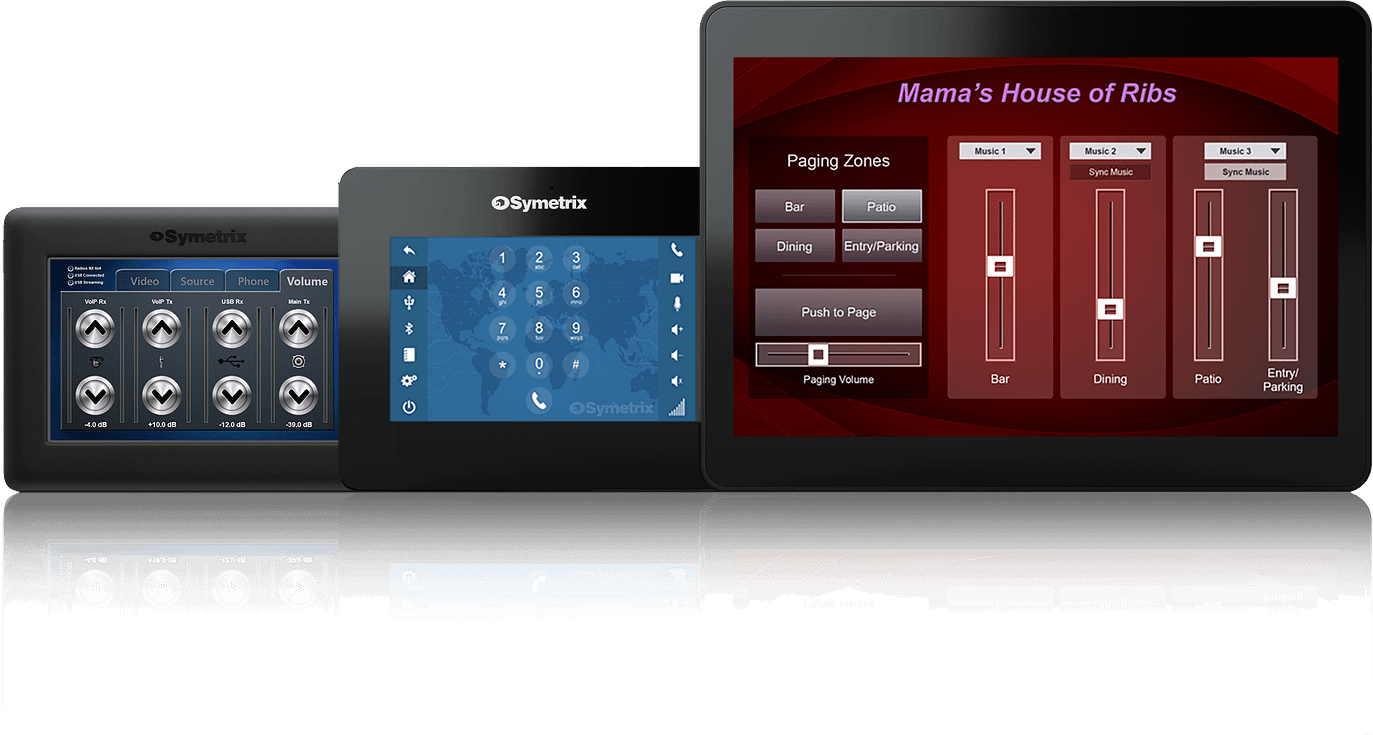 Compact and unobtrusive, and available in 5″ or 10″ displays, our ethernet powered touchscreens can be wall mounted or placed in the tabletop stand accessory. Deploy up to 80 touchscreens per system with batch configuration capabilities for multiple units powered by Symetrix's award winning GUI authoring software – SymVue. Create custom control screens with unique backgrounds, corporate logos and more.
Control Solutions for Corporate & Conferencing Environments
Modern teleconferencing requires pristine audio, easy control, and flexible deployment. Symetrix delivers on all counts with unsurpassed audio quality, multiple methods for system control, and configurations ranging from simple huddle rooms to dozens or hundreds of microphones. Combining world-class acoustic echo cancellation with the nearly infinite flexibility of configurable devices and networked digital audio routing, Symetrix provides a solution for any teleconferencing need. Every Symetrix teleconferencing system can be controlled from easy-to-use wall remotes, wireless tablets or mobile phones, all programmed in minutes.

Unlimited Programming Flexibility
Prism is programmed using Composer – Symetrix' award winning open-architecture CAD application. Systems can be designed to perfectly match specifications and conform as requirements change or evolve. All classes of audio processing modules for signal routing and shaping are provided. Application-specific modules address special purpose requirements like conferencing and room combining.
Together, Symetrix and Dante provide the fastest possible way to implement, control, and maintain a system of networked DSPs and accessories. A Prism system's analog input and output count may be increased using Symetrix Dante-enabled xIn 4, xIO 4×4, xOut 4, xIn 12, and xOut 12 analog I/O expanders.
Prism's embedded web server displays I/O levels, diagnostics data, and hosts ARC-WEB – a browser-based interface for smartphones, tablets, and computers. Users can control volume, mute, source selection, and other important parameters of their sound systems from devices they already own.
More Control From the Same Symetrix DSP
Control Software
Create custom GUIs combining the power of presets, logic, security, and scheduling. Extend them further with Symetrix Custom Intelligent Modules leveraging Lua Scripting.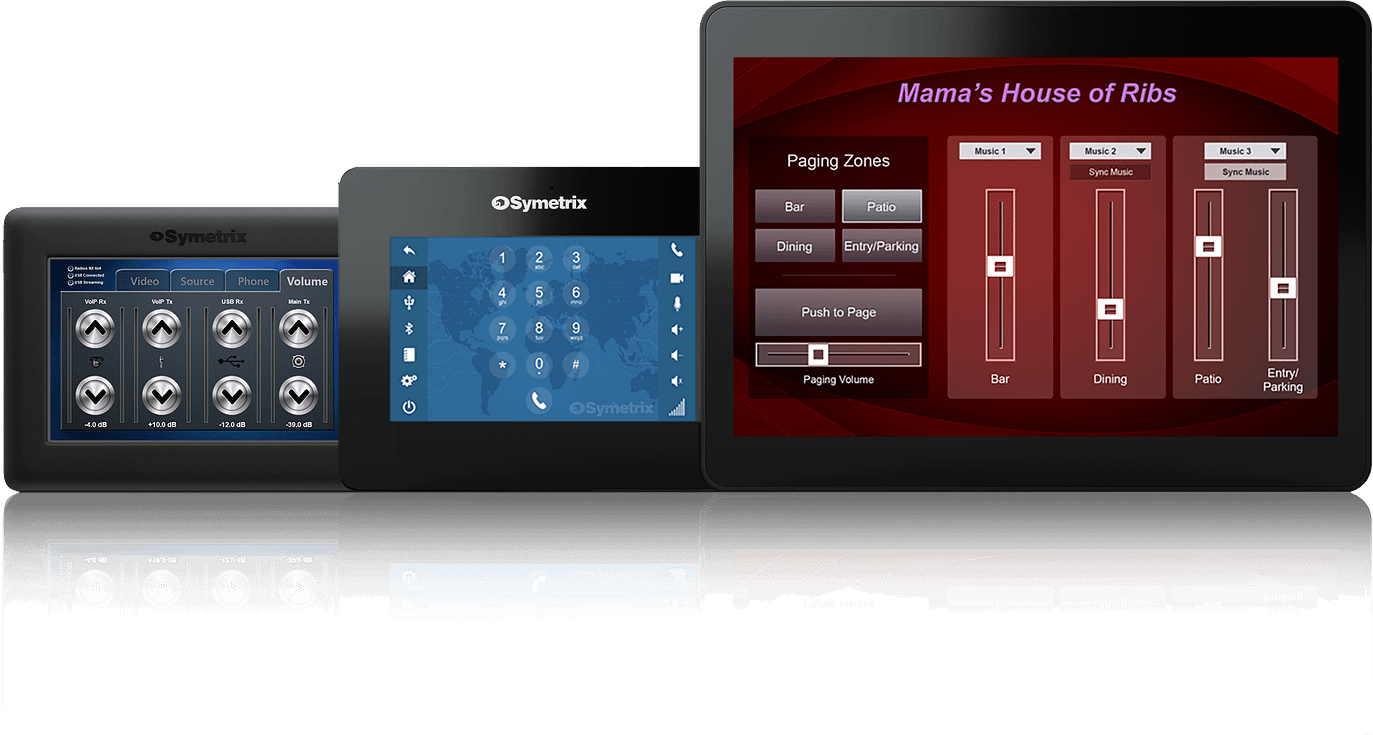 Touchscreen Display
Design, display and deploy tailored user experiences with Symetrix touchscreens or bring your own device (BYOD) for wireless control with our Control Server.
3rd Party Devices
Control non-Symetrix devices and create unique system features with Symetrix Custom Intelligent Modules in Composer leveraging Lua Scripting.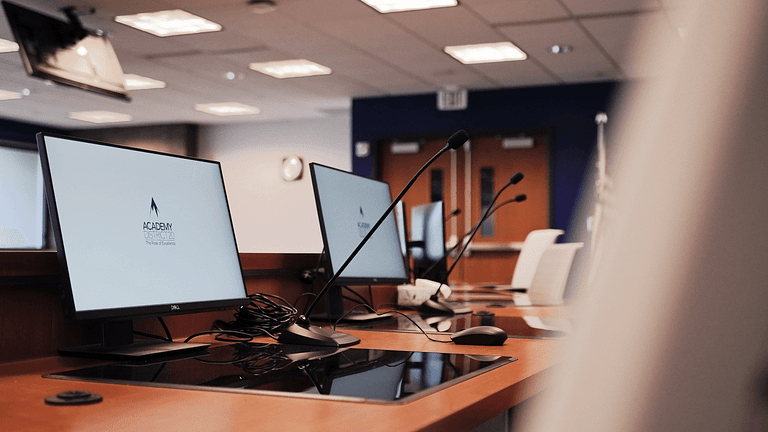 The rise of the hybrid meeting has seen new technology demands placed on every type of organization. The necessity of
Read More »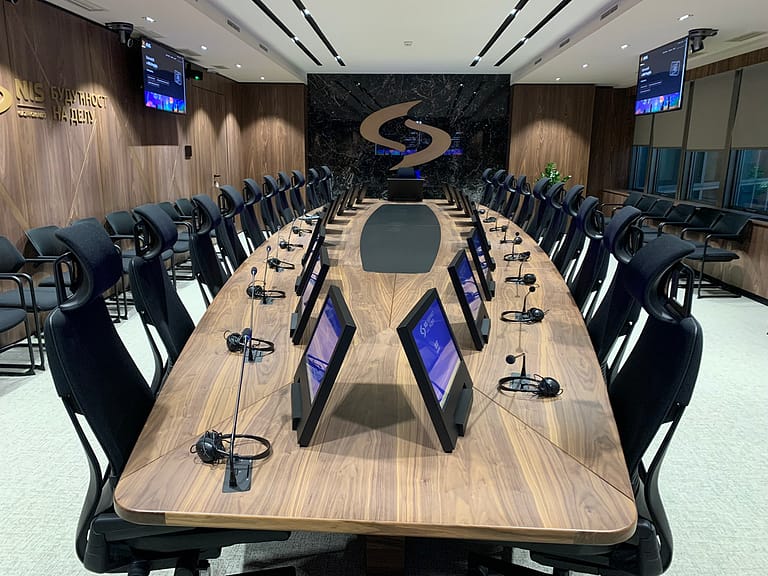 NIS Gazprom Neft, a vertically-integrated energy company in Belgrade, Serbia, uses multiple translators to help translate their meetings into three
Read More »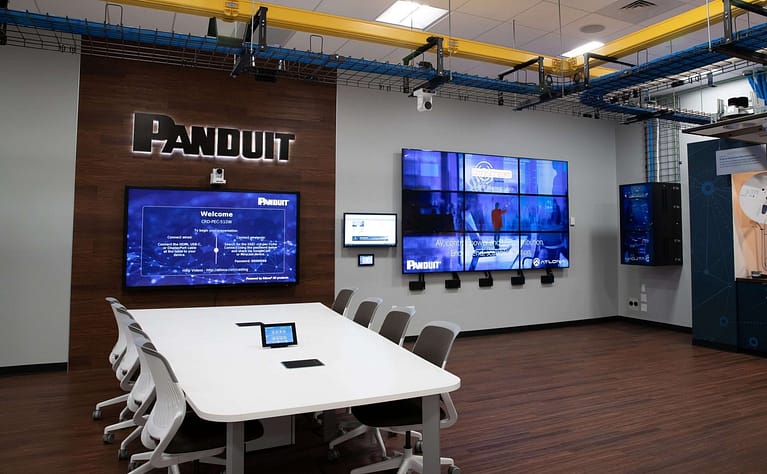 Tinley Park, IL — July 2020… Located inside the Jack E. Caveney Innovation Center in Tinley Park, IL, the Panduit
Read More »
We love Symetrix control systems because they provide an ease of use and flexibility of design that is unmatched.
The sound quality is good, the help files are excellent, and the software is advanced. Very little training is needed. You can do really powerful stuff with Symetrix!
- AVL Projekt in Belgrade
Discover innovative ways to solve your greatest audio video system control challenges with Symetrix Composer Basic Training. Composer Basic Training is available online to anyone at any time. Sign up today and complete at your own pace.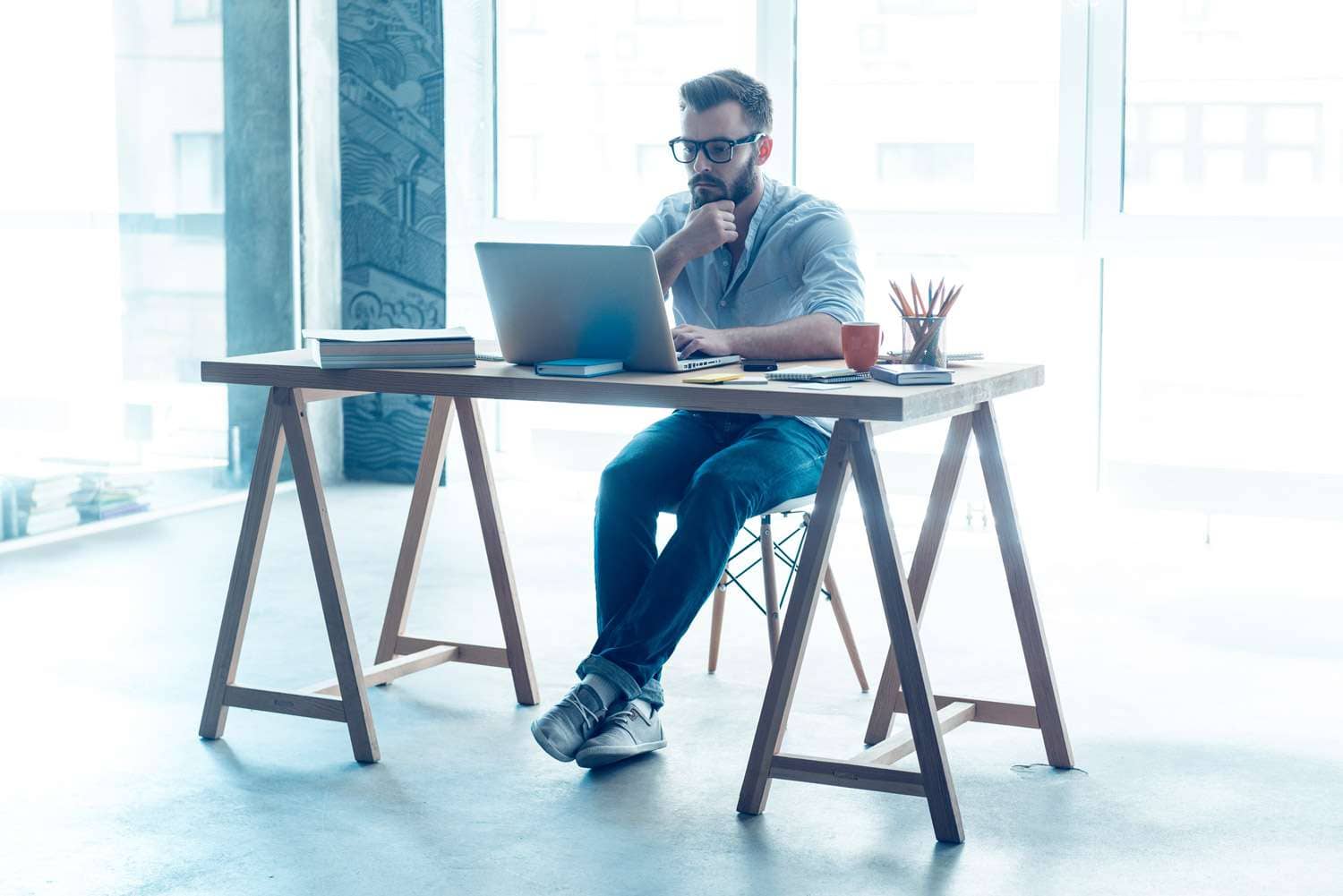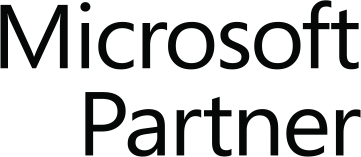 We are proud to be part of the Microsoft Partner Network.
Send us a note and someone will contact you right away to see how we can help you solve your greatest AV challenges brilliantly.