Ryan Seacrest is a US broadcasting legend. The host of American Idol since 2002, he has executive produced over 50 shows, hosted multiple awards celebrations, and regularly appears across radio, TV, and film. But for many people his greatest achievement is miles away from the bright lights of the entertainment world, and more about how he has transformed lives through the nonprofit Ryan
Seacrest Foundation. The Ryan Seacrest Foundation (RSF) describes itself as an "organization dedicated to inspiring today's youth through entertainment and education focused initiatives," but to the millions of people who it has inspired since its launch in 2010, it is much more than that.
RSF's aim is to contribute positively to the healing process for children and their families during their stay in hospital. It does so through the creation of experiential broadcast media centers, known as Seacrest Studios, which are integrated into pediatric hospitals across the US. They are designed not only to give patients free access to explore radio, television, and new media, but to uplift the spirits of the entire hospital community. In 2022 the RSF reached 2.2 million patients through its 14 studios. It produced 5,300 hours of live programming and in 2021 it hosted more than 150 in-person and virtual visits from some of North America's biggest stars. With three new studio builds scheduled to open in 2023, the program is still growing.
Symetrix has been part of the journey since its early days and continues to support RSF's work by donating signal processing and control equipment. "Donations from manufacturers are absolutely key to ensure we are able to keep going and keep expanding," said RSF Director of Engineering Brian Clark, who has been Ryan Seacrest's engineer for the last 28 years. "Each studio is a different space but we try to maintain the same styling and equipment where we can. As the kids get involved in the production, it's important that the equipment is easy to use, so we work hard to keep the system streamlined.
"We try to keep things simple in the studio and we hide the bigger stuff in a rack room," Brian continued. "We don't operate in a broadcast environment; we are in a medical center and so the studio is a finite space and we need to make sure we are getting the most value out of it.
"We use Sierra Automated Systems for the main broadcast console, Electro-Voice microphones, and we
use the Symetrix Jupiter 8," he said. "Without the Jupiter 8 we would need multiple processors and this allows us to do everything from one unit. We use it every day and the fact that it is just 1RU means we have more space for other equipment."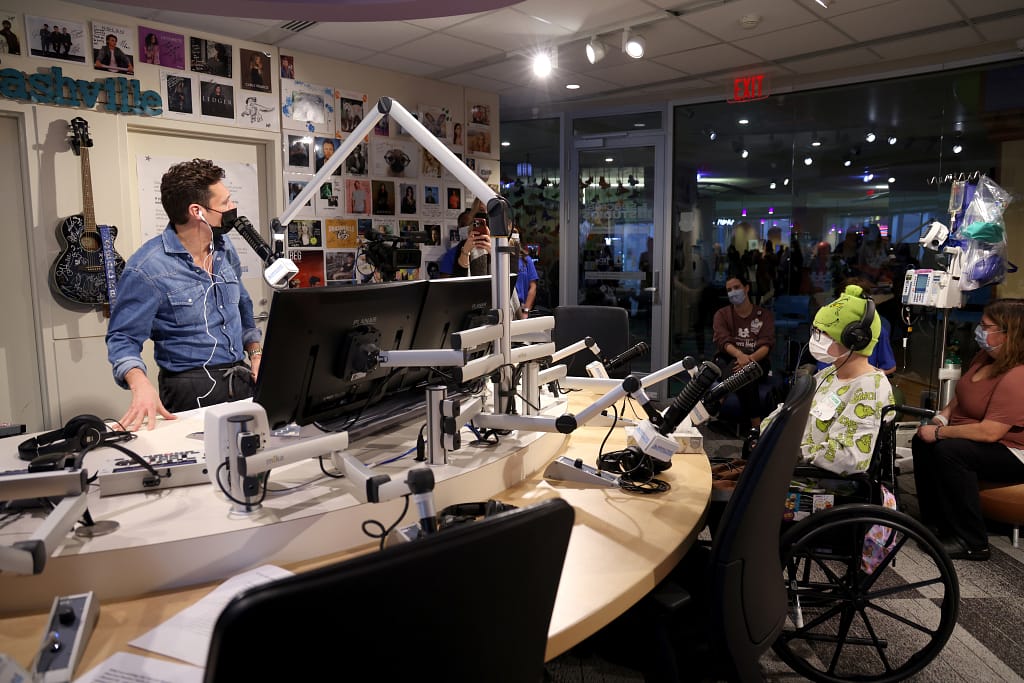 The hospitals hire a studio manager to run their facility, and each is configured to cater for the patients' needs with accessible desks and ample access to the equipment. They can even work with a gurney and there are plug-ins at each station where an IV system can be attached if required. Design is important and Brian says that they have learned more about optimizing the spaces over the last 13 years. "Initially we were very focused on creating an ideal broadcast space, but we've adapted the designs to accommodate the specific needs of the children as well as the needs of the hospital," he said.
"Hospitals have unique requirements, so we have learned how to address them. To accommodate the children we have more space, we have wider doors with a dooropening system, and we have extra plug sockets. We use special disposable muffs over the microphones to ensure cleanliness and we use rubberized vinyl instead of carpet for the floors because they are easier to clean. This can be challenging for acoustic absorption, but we found a material that works well. We've all learned a lot during the process."
RSF believes that access to multimedia experiences provides patients with optimistic experiences throughout their treatment, and it certainly delivers. Not only does it facilitate celebrity visits from the likes of Jordan Davis and Selena Gomez, but in the summer of 2022 patients at Monroe Carell Jr Children's Hospital literally spoke to the stars in a live Q&A with the astronauts at the International Space Station.
"Working with NASA and the astronauts at the international space station and enabling the kids to talk to an astronaut direct from their rooms is so exciting," said Brian. These levels of engagement are priceless; making the connection between the physical training of an astronaut to the physical therapy that patients experiencing is nothing short of inspirational.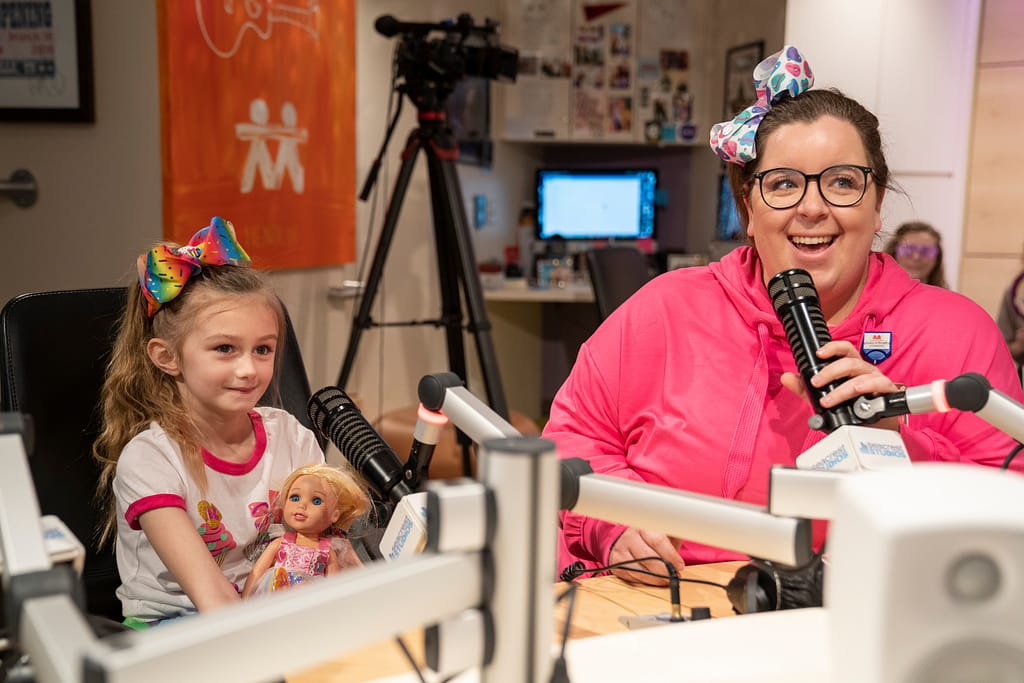 Outside of the hospital, the program encourages students from local schools to get involved by providing them with opportunities to gain first-hand experience in broadcasting and programming. It has created over 1,000 internships from more than 100 schools, which has led to 21 former interns starting a career in the media industries.
In fact, everyone involved in the program is supported by the Foundation with a biannual summit that brings all the hospitals together. Last year's summit hosted representatives from all 14 Seacrest Studios to share best practices and learn about the impact of media on young people. With seminars from PBS Kids and Fred Rogers Productions, they are designed to promote collaboration and community between all the hospital teams.
And great ideas can come from anywhere.
"Many kids can clam up as soon as they see a camera," said Brian. "One of the IT engineers had an idea to dress the camera like a dog with ears, a tongue and some eyes, and the kids were immediately more comfortable! These are very different ways of working, many of which are outside of a normal broadcast environment!"
The Ryan Seacrest Foundation is all about having a positive impact of the lives of thousands of children and their families, and it's definitely working.
"It's developed so much since we built that first studio in Atlanta. Doctors have told us that because the kids are so involved in something rather than being confined to their rooms, they aren't requesting as much pain medication. That is truly amazing and it makes all the difference."